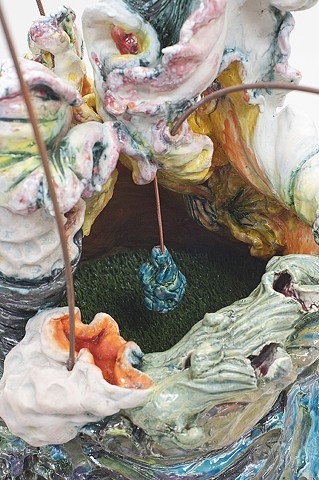 Beauty and Grotesque are relative terms that can't exist without each other, just as sound and rhythm can't be heard as music without silence. Life intermingles elements of the beautiful, utterly strange, comic, and violent, culminating in the incomprehensible space of the sublime. My sculptures play these sensory notions off each other while evoking creative and destructive forces.
Born in New York, lives and works in Woodland, CA. Fitz Gibbon has an MFA in Visual Arts from the Art Institute of Boston/Lesley University, and BA from Yale University. She was an Artist in Residence at Anderson Ranch Art Center, CO, spring 2010 and was awarded a merit scholarship for the Vermont Studio Center, June 2017.
Publications include Confrontational Ceramics, 500 Figures in Clay: Volumes I & II, Ceramics Art and Perception, and Ceramics Monthly.
Collections include the Crocker Art Museum, and the UC Davis Manetti Shrem Museum, CA; the Arizona State University Museum, Tempe; the Butler Institute of American Art, OH; and the Yale University Art Gallery, CT